Newark

High School




Class Of 1968
ANNOUNCEMENTS
•

Hello 1968 Classmates!!

The date for our "50th" Class Reunion is set!!..It will be August 24th and 25th ....High School tour on Sunday, August 26.

The Price for our "50th" Class Reunion is $30.00 per person which includes both Friday and Saturday night Acitivites. Hopefully, you can come both nights! However, it is a packaged deal of $30.00 whether you come both nights or only one....it is still $30.00.

Friday night will begin at 7:00 pm until 11:00 pm at the FOP lodge There will be a cash bar and light snacks. Saturday night will begin at 7:00 pm to 11:00 pm at St Leonard Church Activity Center. Saturday night includes a sit down dinner including coffee, tea, and water. Dinner will be served promptly at 7:30 pm.. On Saturday evening, you may BYOB or soda beverage of your choice. There will not be any provided.

***DEADLINE for both nights is AUGUST 15, 2018. THERE WILL BE NO ADMITTANCE AT THE DOOR without a reservation. Please respect the committee and all of their work and their requirements to the caterer and establishments to have your reservation completed by the deadline.

Please put this date on your calendar and let all of our Classmates know the date. Also all classmates are Invited and Welcome to join the planning of our Reunion.

•

To register for the 50th Reunion, click on "50th Reunion" in the Navigation panel. Follow the prompts. The last part of the registration will give you Linda Brucker's information and address on where to send the check.

•
We are setting up a Scholarship Fund with Call to College as a memorial for the 50th Reunion of the Class of 1968. You can check their website at www.acalltocollege.org/Donors.aspx to download a form to make a donation. Call to College will also have a display at our mixer on Friday night and at the dinner on Saturday night. You can make a donation at that time as well. Any donation is acceptable and greatly appreciated.

•

Check out our Facebook Page - www.facebook.com/newarkclassof1968

•

We are looking for pictures from prior reunions, high school life, or even old baby pictures!  Please send them to the Facebook page or message me if you have Messenger (Facebook).  We would like to post these on this website as a collage or slideshow, as well as use them at the reunion this year.  - Larry Wilson

•
We are not soliciting funds for the 50th reunion, but some people have generously offered to help out with donations to help the cause. If you would like to do that, please send your donations to Linda (Miller) Brucker, 246 Sherwood Dr. N, Newark, OH 43055. Thank you for wanting to make this a GREAT event!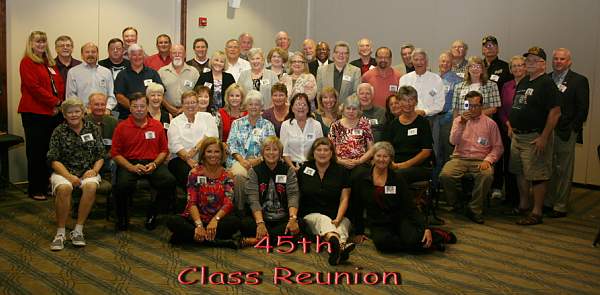 Official Site of the Newark High School Class of 1968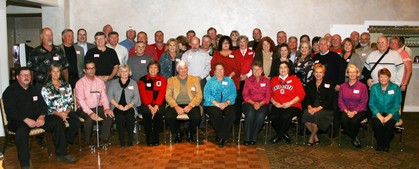 "40th Class Reunion Picture"