In Memory
James Young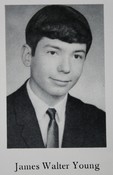 Jim died on November 12, 2001.
A Mass of Christian Burial for James W. Young, 51, of Columbus, will be held at 11:30 a.m. Friday at St. Francis de Sales Cathlic Church with the Rev. Dean Mathewson officiating. Internment will be in Oxford Cemetery in Oxford, at a later date.
Mr. Young, who worked in the maintenance department of Lazarus Department Stores and St. Charles School in Columbus, died November 12, 2001, at his home. He was born March 3, 1950, in Newark, to Florence (Kroll) Young and the late James B. Young.
Mr. Young was an Eagle Scout and a 1968 graduate of Newark High School.
In addition to his mother, he is survived by his daughter, Brittany Ann Van Gundy of Grove City; brother and sister-in-law, Robert M. and Evelyn Young of Newark; special friend, Paula Taylor; and nieces and nephews.
Friends my call one hour prior to the service on Friday at the church in Newark.
Reed-Egan Funeral Home, 141 Green Wave Drive, Newark, is in charge of the arrangements.