In Memory
Cindy Winegardner (Johnson)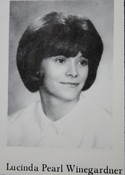 Lucinda 'Cindy' Pearl Johnson Nov- 26 1949-Jan. 10, 2006
A funeral service for Lucinda "Cindy" Pearl Johnson, 56, of Newark, will be held at 10:30 a.m. Friday at the Newark Chapel of Henderson-Van Atta Funeral & Cremation Service with the Rev. Robert L Knox officiating. Burial will follow in Newark Memorial Gardens.
Mrs. Johnson died Jan. 10, 2006, at her residence. She was born Nov. 26, 1949, in Millersport, to the late Robert and Barbara (Siegle) Winegardner. Mrs. Johnson was employed by Kmart for 17 years and by Target for nine years.
She is survived by her husband, Joseph "Picolo" Johnson, of Newark; a daughter, Donna (Johnson) Partin, of Newark; two grandchildren, Joey and Jennifer Partin; one brother, Bobby Winegardner, of Newark; one sister, Karen Keegan, of Geno, Illinois; sister-in-law and brother-in-law, Jean and Jack Marriott, of Newark; lifetime friend, Patty (Rhinehart) Brooks; and several aunts, uncles, cousins, nieces, nephews and friends.
In addition to her parents, she was preceded in death by two sisters, Linda McKinney and Phyllis Kay Sunkle.
Friends may call from 5 to 8 p.m. Thursday at the funeral home, 59 N. Fifth St., Newark. An online guest book and memorial is available at wwwhen-dersonvanatta.com.