In Memory
Thomas Wilson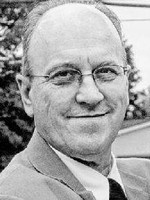 A funeral service for Pastor Tom Wilson, 60, of Frazeysburg, will be held at 1:00 p.m. Thursday at Brucker and Kishler Funeral Home. Burial will follow in Frazeysburg Cemetery.
Pastor Tom Wilson, a minister and pastor of Jacksontown Rd. Church of God, passed away September 19, 2010, at the OSU Medical Center. He was born April 6, 1950, in Newark to Opal (Smith) Wilson and the late Emerson A. Wilson.
He also worked for Alltel for 30 years. He lived his life serving God and others and found great joy being with his family.
In addition to his mother, he is survived by his loving wife, Rose (Kilpatrick) Wilson, whom he married on June 20, 1968; children, Rodney (Jamie) Wilson, Tomma (David) Beverley, and Amy (David) Bremer all of Frazeysburg; siblings, Walter "Pete" Wilson and Terry Wilson both of Newark, Tim Wilson of Alabama, and Sue Wolfe of Newark; grandchildren, Kurt Bremer, Wyatt Bremer, Lauren Beverley, Emily Bremer, Ashlyn Beverley, Hunter Beverley, Logan Bremer, Kaitlyn Beverley, and Emerson Linn Wilson.
In addition to his father, he was preceded in death by his sister, Sandy Ford.
Friends may call from 2 to 4 and 6 to 8 p.m. Wednesday at the funeral home, 985 N. 21st St. Newark.
In lieu of flowers, contributions may be made to the Church of God Philippine Missions, which can be done through the church, Jacksontown Rd. Church of God. 6445 Jacksontown Rd. Newark, OH 43056.