In Memory
James "Randy" Williams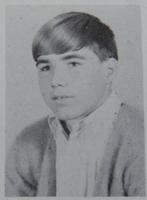 A graveside service for James "Randy" Williams, 51, of Newark, will held at 10:30 A.M. Saturday in Cedar Hill Cemetery with the Rev. Robert L. Knox officiatiing.
Mr. Williams, who had been employed in the construction industry and served in the U.S. Air Force, died 17 April 2001 at Licking Memorial Hospital. He was born 11 February 1950 in Newark to Beverly J. (Kear) Williams of Newark and the late James R. Williams.
In addition to his mother, he is survived by his sons, Justin, Smile, and Luke Bukoski, all of Hendersonville, North Carolina; and brothers, Jack (Connie) Williams of Rochester, New York, and David Williams of Hartsville, Alabama.