In Memory
Susan Stockdale (Fry)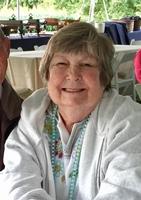 Tarboro, NC

Susan Lynn Fry, 68, passed away Monday, April 22, 2019 at Duke Hospital.

Susan retired after many years of service from Edmont Manufacturing Company. She was a loving wife, mother, and Nana to her grandchildren and a friend to all. She had a great passion for working with the Tar River Peace Maker Quilting Guild, as they were involved in making quilts for the shut in, veterans, churches, and hospitals.

She is survived by her loving family, including her husband to 51 years, Robert Fry; daughters, Jennifer Morrison and husband, David and their son, Cameron, Denise Grandshaw and husband, Rich and their daughter, Haley; son, Bobby Fry; sister, Sharon Mentges; brother, Steve Stockdale.

There will be a Celebration of Life at the home of Robert and Susan Fry, 41 Whichard Lane, Tarboro on Thursday, April 25, 2019 from 6:00 – 8:00pm.

In lieu of flowers, memorial gifts may be made to Alpha-1 Foundation, 3300 Ponce de Leon Blvd. Coral Gables, FL 33134, Phone: (877) 228-7321, Email: info@alphaone.org.