In Memory
Greg Shanklin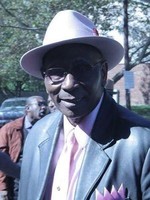 Gregory's Obituary
Gregory Shanklin

NEWARK: A graveside service celebrating the life of Gregory Shanklin, age 64, of Newark, will be held at 10:00 a.m. on Wednesday, March 19, at Cedar Hill Cemetery with Rev. Dr. Michael A. Noble officiating.

Greg was born June 20, 1949 in Birmingham, Alabama. He passed away unexpectedly on Thursday, March 13, 2014 at Licking Memorial Hospital.

Greg was a 1968 graduate of Newark High School and had been employed as a forklift operator at Owens Corning Fiberglas for over 40 years. He enjoyed playing basketball and listening to old-school music, loved clothes and hats and was an avid fan of the Cowboys and the Lakers.

He is survived by his mother, Leizer (Oliver) Shanklin; sister, Ellanor Shanklin; niece, Demia Shanklin; nephew, Terrell Shanklin; great-nieces, Jada Shanklin, Dayanna Bailey and Ciara Banks; great-great-nephew, Xavier Banks; and many friends.