In Memory
Charles Robinson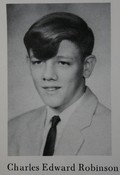 Newark High School




Class Of 1968

Deceased Classmate: Charles Robinson
Date Of Birth: Nov-26-1950
Date Deceased: May-27-2001
Age at Death: 50
Cause of Death: Heartattack
Classmate City: Columbus
Classmate State: GA
Classmate Country: USA
Survived By: Beth Robinson (wife) Lori Robinson (daughter ) Jason Robinson (son)

Retired US Army in 1995 .Served in Persian Gulf War. He was called Eddie by all close to him or Ed as he got older. He retired from Ft. Benning Georgia and stayed there with his family.Was married 27 yrs . Ed was a great man and father.We are very proud of all his accomplishments in his life and miss him everyday.He is laid to rest at Ft. Benning.