In Memory
Rosemary Roberts (Dugan)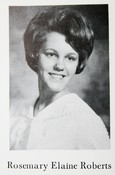 Rosemary Elaine (Roberts) Dugan March 4, 1950-Nov. 30, 2003
A funeral service for Rosemary Elaine (Roberts) Dugan, 53, of Newark, will be held at 11 a.m. Thursday at the Brucker and Kishler Funeral Home, with the Pastor Chris Frye officiating. Burial will follow in Newark Memorial Gardens Cemetery.
Mrs. Dugan, a cake decorator for Kroger, passed away Nov. 30, 2003, at her residence. She was born March 4, 1950, in Newark, to Mary Louise (Bradley) Roberts and to the late Clement Orn Roberts Sr. Mrs.
Dugan was a 1968 Newark High School graduate.
In addition to her mother, she is survived by her husband, Terry Dugan of Newark; son, Kevin Dugan of Newark; daughter, Kathy (Bryan) Feaster; two granddaughters Emily and Lynzi Feaster, all of Heath; four brothers, Clement Orn Roberts Jr., Thomas Roberts, Michael Roberts and Jeffery Roberts; and two sisters, Peggy Kerr and Connie Schwarz.
Friends may call from 2 to 4 p.m. and 6 to 8 p.m. Wednesday at the funeral home, 985 N. 21st St., Newark. Contributions can be made to Hospice of Central Ohio, 1984 Coffman Road, Suite A, Newark, Ohio 43055-9810.