In Memory
Stephen Mix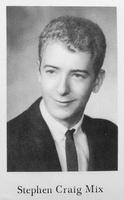 We received this information about Steve Mix from Belinda (Binnie) Smith Phillips. May Steve rest in peace.
Deceased Classmate: Stephen Mix
Date Deceased: December-3-2012
Age at Death: 62:
Classmate City: McConnelsville
Classmate State: OH
Survived By: Wife, Irene, and daughter, Francine, both of California. And a sister, Kim Mix, of Newark.
Steve was my 1st cousin. He had many health issues and had withdrawn from most back in 80s. He had moved to McConnellsville where his dad lived, and worked on a Mennonite farm. He helped take care of his dad when he had cancer and passed away. Steve stayed on at the Mennonite farm and when his health deteriorated that family took care of him. He was active in their church and being a Mennonite service, there was not a public obituary. I was unable to attend the service, but I stay in touch with my cousin, Kim, Steve's sister.
Belinda (Binnie) Smith Phillips