In Memory
Darrell Kerns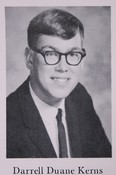 Darrell D. Kerns

NEWARK: A funeral service for Darrell D. Kerns, 61 of Newark will be held at 1 PM on Monday, November 14, 2011 at Brucker-Kishler Funeral Home, 985 N. 21st St., Newark, OH with Pastor James Kirk and Bishop Travis L. Kirk officiating.

Mr. Kerns passed away on November 7, 2011 at Ohio State University East Hospital. He was born on June 29, 1950 in Dayton, OH to Paul H. and Esther Marie (Hall) Kerns.

He is survived by his loving wife of 40 years, Sue Ann (Smith) Kerns, son, Paul (Tonya) Kerns, mother, Esther Marie Kerns, sisters, Jean (Jack) Lepley and Debbie Stevens, brother, Larry Kerns, sister-in-law, Pam Kerns and many nieces and nephews.

He is preceded in death by his father, Paul H. Kerns, sister and brother-in-law, Donna and Perry Athey, and brother, Steven Kerns.

Mr. Kerns worked for Holophane for 33 years and the State of Ohio Job and Family Services for 10 years. His great sense of humor will be truly missed by all his family and friends.

The family will receive friends on Sunday, November 13, 2011 from 2-5 PM at Brucker-Kishler Funeral Home.

Memorial contributions can be made to the Central Ohio Diabetes Association, 1100 Dennison Ave., Columbus, OH 43201.