In Memory
Cynthia Dunlap (Williams)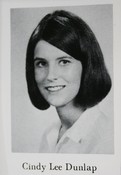 Newark High School
Class Of 1968
POSTED BY DEBBIE EARL HUGHES

Deceased Classmate: Cynthia Dunlap
Date Deceased: Oct.-9-2007
Age at Death: 57
Cause of Death: cancer
Classmate City: Columbus
Classmate State: OH
Classmate Country: USA
Survived By: Husband: John Williams Sons: Jay and Jared

Cindy was one of my best friends since we were 13. She married her high school sweetheart and had two wonderful sons. Prior to her illness she and her husband John were in the process of moving to Arizona. Cindy was a champion of children with austism having that her oldest son Jay is autistic. She fought for his rights in society as well as with the school systems. Jay graduated college, supports himself and lives independently,thanks to the tireless work of his mother. She always believed in him and his future is bright because of that belief. Having a handicapped child myself, I looked to Cindy for guidance. Cindy's death was very unexpected. There was just a two week window between diagnosis and her passing. She had no idea until those two weeks that she was ill with cancer. Obviously those of us that were close to Cindy are still suffering from the loss.