In Memory
Joe Corsi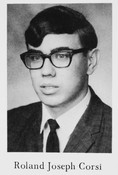 Deceased Classmate: Joe Corsi
Date Deceased: March-12-2000
Age at Death: 50
Cause of Death: Heart Attack
Classmate City: St Louisville
Classmate State: OH
Classmate Country: USA
Survived By: Joann C Benner - Corsi Jason and Michel Corsi Jody and Dawnie Corsi -Grandson Hayden

Joe and I married in 1972.He was in the navy for 4 years ,and worked at Owens for 30 years as a machine repairman.He injoyed camping,fishing,hunting with the boys. We lived in Newark untill June of 1999. We moved to St. Louisville to our retirement home.