In Memory
Cathi Carter (Hazlett)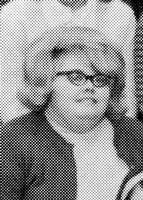 Services for Cathi L. Hazlett, 43, of 90 N. Buena Vista St., Apartment 45, will be held at 2 p.m. Thursday at Sims Funeral Service, with the Rev. James Dennis officiating. Burial will follow in Cedar Hill Cemetery.
Mrs. Hazlett died Jan. 3, 1993, in Columbus. She was born March 27, 1949, in Pike county, to the Rev. Robert L. and Nellie C. (Penn) Carter, both of Newark.
She moved to Newark from Pike County in 1966, and formerly attended Maple Avenue Christian Union Church.
Surviving are her husband, Mike Hazlett of Newark, and three brothers, Bruce and Mike Carter of Newark, and Dennis Carter of Granville.
Friends may call from 6 to 9 p.m. Wednesday at the funeral home.