In Memory
Barb Mautz (Hall)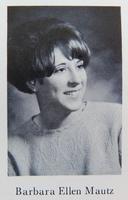 Friends of Barbara (Mautz) Hall-Smyrl, 53, of Newark, may call from 2 to 4 and 7 to 9 P.M. at the Brucker & Kishler Funeral Home, 985 N. 21st St.
Mrs Smyrl passed away 15 July 2004 at the Selma Markowitz Hospice Care Center. She was born 23 Oct 1950 in Newark to the late Paul and M. Pauline (Ice) Mautz. Mrs Smyrl was a Newark High School graduate and was formerly emplyed with the Newark Air Force Base. She was a member of the Ladies Auxiliary American Legion and the Ladies Auxiliary VFW.
Barbara is survived by her children, Karissa Rae (Terry) Binckley of Newark, Charles Joseph (Michelle) Hall of Ft. Stewart, Georgia, Karey Lyn Hail of Newark, and Eric Michael Hall of Newark; two brothers, Michael (Pamela) Mautz of Newark and Thomas (Anita) Mautz of Des Moines, Iowa; three grandchildren, Austin James, Paige, and Landon; two nephews, Anthony Mautz, and Jason Mautz, both of Newark; and niece Laura Mautz of Des Moines, Iowa.