In Memory
William Clifford VIEW PROFILE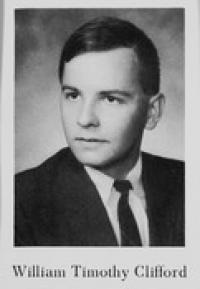 William Timothy "Bill" Clifford

A funeral service for William Timothy "Bill" Clifford, 63, of Newark, will be held at 1:00 p.m. Friday at Brucker and Kishler Funeral Home, with Pastor Judy Baker officiating. Burial will follow in Newark Memorial Gardens.
Bill, a former Newark City Councilman and President of the Courthouse Lighting Committee, passed away June 9, 2014, at Licking Memorial Hospital. He was born November 6, 1950, in Columbus, to the late Timothy A. and Esther M. (Schultz) Clifford.
Having grown up in Newark, Bill graduated from Newark Senior High School in 1968 and it was there he developed an interest in broadcasting working as a student volunteer at the school owned education TV station WGSF Channel 28.
After high school Bill joined the news staff at WCLT Radio as a reporter, and in his lifetime worked at WCLT for four different stints as a reporter and news writer. He earned the nickname of "Scoop" for his ability to seek out interesting local news stories. He also worked in the family business The Licking Laundry Company in south Newark.
Bill was a past president of the Licking Festival, Inc. which operated the Land of Legend Festival in the 1970's. He was instrumental in the Land of Legend mug and pitcher series sale. Bill was also an active member of the Heisey Collectors of America. Along with collecting Heisey Glassware, Bill was also a driving force in the organization of the annual Heisey Collectors Convention and related events.
In the early 1970's Bill was the driving force in a small group at WCLT Radio who worked to save a local tradition, the annual Christmas Lighting of the County Courthouse. The project nearly died from lack of support, and a grass roots committee was formed to rejuvenate the project. He served nearly two decades as the President of the Courthouse Lighting Committee, and delighted to see how the project has grown in recent years in both scope and support.
In his earlier years Bill was active as Chief of the Newark Fire Department Auxiliary and he served two terms as a Republican member of Newark City Council from the 6th Ward, in the early 70's. Later in life he worked as a Fire and EMS Dispatcher.
He was a supporter of the work of the Licking County Humane Society.
Bill will be sadly missed by the thousands who enjoyed his radio news reports, his service to the City of Newark, and his contribution to keeping alive the tradition of Courthouse Lighting.
He is survived by his brothers, Robert (Sarah) Donley of Grove City and James (Cynthia) Donley of Pataskala; numerous aunts, uncles, nieces, nephews, and cousins; good friends, Cindy Wood and her daughters, Kaylee and Kelsey and Butch Hash. Special thanks to the Newark Firefighters and Executive Care.
In addition to his parents, he was preceded in death by several aunts and uncles.
Memorial contributions in memory of Bill Clifford can be made to the community based organization he founded the Licking County Courthouse Lighting Committee, P.O. Box 292, Newark, Ohio 43055. Memorial donations will be used to purchase new decorations. (The Lighting Fund is a charitable non-profit and donations are tax deductible).
Click here to see William's last Profile entry.